STANLEY HALL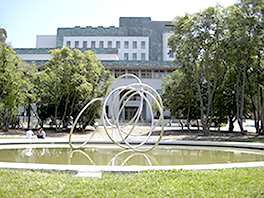 MetSoc Conference Hub
Oral presentation auditorium 1
Registration and help desk,
Concierge & speaker ready room
Break out space, refreshments
SIBLEY AUDITORIUM, Bechtel Engineering building
Oral presentations 2
HEARST MEMORIAL MINING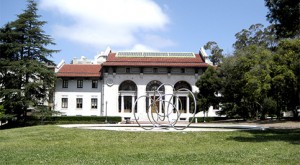 Lobby
Posters, on display all week.
Poster session Tuesday evening, with refreshments
Conference special events are all close by on the campus, including the banquet, Barringer Invitational lecture and welcome reception.
Everything is easy walking distance from the Stanley Hall conference hub. No car needed.
The UC Berkeley campus is spread out at the base and into the hills of Berkeley. Below are several versions of the map.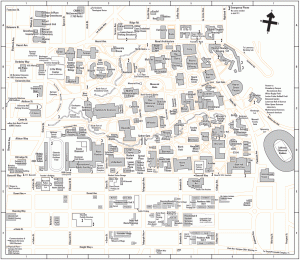 Full size pdf version of the campus map.
Interactive map of the campus and the surrounding Bay Area.
---
WI-FI ON CAMPUS: The entire campus has eduroam (education roaming) and CalVisitor capability.
eduroam: Visitors who come from an institution that participates in eduroam will be able to use AirBears2 Wi-Fi network without the need for guest passes or additional configuration. To connect the eduroam SSID (Service Set Identifier), you should have eduroam ID (in general, your e-mail address) and Wi-Fi key from your institution. Visitors using eduroam will be provided with full access to the UC Berkeley network including licensed library resources. Please check eduroam capability and receive Wi-Fi key before leaving your institution.
eduroam is a world-wide roaming Wi-Fi service for educational institutions. Users from any participating institution can use the eduroam service at any other participating institution to obtain Wi-Fi network connectivity with minimal configuration.
CalVisitor: A basic level of Wi-Fi access for campus visitors. To access CalVisitor, simply configure your Wi-Fi enabled device to select CalVisitor as the SSID for your wireless networking needs. No password is needed. CalVisitor allows visitors to access their e-mail and the Internet but does not allow access to licensed library resources.
---
EXERCISE IN CAMPUS: The Berkeley campus has wide-ranged recreational sports facilities for visitors. Visitor can purchase a day pass of $12/day.
---
University of California, Berkeley Campus
Founded in the wake of the gold rush by leaders of the newly established 31st state, the University of California's flagship campus at Berkeley has become one of the preeminent universities in the world. Its early guiding lights, charged with providing education (both "practical" and "classical") for the state's people, gradually established a distinguished faculty (with 22 Nobel laureates to date), a stellar research library, and more than 350 academic programs.
In recognition of broad and deep excellence, respected sources have repeatedly ranked UC Berkeley at or near the top in fields ranging from engineering and the "hard" sciences to the social sciences, arts, and humanities. Case in point: A National Research Council analysis of U.S. universities concluded that UC Berkeley has the largest number of highly ranked graduate programs in the country. It ranked doctoral programs within a range (such as between 1st and 5th) and found that 48 out of 52 Berkeley programs assessed ranked within the top 10 nationally.
In accordance with UC's "public" character, the university has long served talented individuals regardless of means. As early as 1897, financial aid was available for "needy and deserving" students. More than a century later, UC Berkeley combines outstanding teaching and research programs with broad access for students of all means — educating more federal Pell Grant recipients from low-income families than all eight Ivy League universities combined. Close to 30 percent of UC Berkeley freshmen are the first in their families to attend college.